About this guide
This guide provides you with an alternative method to using physical books and notes to organize your guitar lessons. Instead of writing down notes and keeping files on each student, you can use programs such as Evernote to keep everything digitally. Before you decide which path to go down, read through this guide. By the end you will have a clear understanding of whether this method will work for you.
Best practices are given later on so you can see exactly how other guitar teachers use Evernote to organize their guitar teaching business.
Disclaimer: We have no affiliation with Evernote in any way and receive no benefit from Evernote. We only discuss products that we use as guitar teachers.
What is Evernote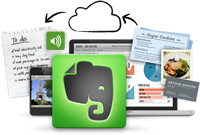 The most basic way to explain Evernote is that it's a free program that keeps notes, audio files, photos and everything else you could possibly want. It's available on essentially all computers, tablets, smartphones. There's plenty of information on what Evernote is on their website so we'll keep this guide focused on information relevant to guitar teachers.
There are other programs similar to Evernote such as Google Keep and OneNote. Although the features may differ you can achieve the same thing with whatever option you choose.
Only Live and Teach Guitar Members have access to this resource and all other resources on the site.
If you're a member, please login to access this resource
If you're not a member yet, find out how our professional materials, resources and support can help you succeed as a guitar teacher here.
https://www.liveteachguitar.com/wp-content/uploads/2015/01/logo-300-100.png
0
0
Live&TeachGuitar
https://www.liveteachguitar.com/wp-content/uploads/2015/01/logo-300-100.png
Live&TeachGuitar
2013-03-30 14:50:51
2017-09-17 20:07:58
BMG-02 Using Evernote to stay organised