If you're interested in teaching guitar or just getting started, it's always a good idea to hear about other guitar teacher's experiences. We've been reaching out to guitar teachers to ask them what they wish they knew before starting teaching. Here's a great answer from Pete Farrugia, who has been teaching guitar since the 70s: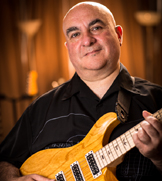 Pete Farrugia on what he wish he knew before starting teaching guitar:
The main thing that I wish I'd have known about when I first went full-time as a guitar teacher some years ago, are the most effective places where I should spend my advertising budget.
I first started teaching on a part-time basis way back in the '70s. In those days, the thing to do was to put a postcard ad in local shop windows, usually newsagents. Back then, it used to work. A steady stream of potential clients would call from a single ad.
These days this method no longer works. I put a postcard in the window of about 20 local shops, negotiating a rate for a whole year. From this I got one new student, barely enough to recoup my outlay. My theory is that people are just too busy these days to spend time reading ads in shop windows.
Another ineffective way to advertise is newspapers, especially those free ones that you see in local shops. I paid for an ad in one of these that assured me they had a circulation of over 15,000 for each weekly issue. I advertised for six weeks, and received not a single call. I still get sales calls from them, and I turn them down every time. Why throw good money after bad?
Ads in the paid papers are not much better. I did get a few calls from one of these, but not enough to justify the price of a decent-size box ad.
The vast majority of my new clients come from two sources: word-of-mouth recommendations, and Google AdWords.
Some teachers incentivise their students to attract new clients from their circle of friends and family, offering a discounted or free lessons for every new referral. I've never had to do so yet, but this is something I'd consider.
These days it's all about the Internet. You must have a good, regularly updated website, and a strong presence on social media. You could spend time and money optimising your website's SEO, so that it appears near the top of the Google searches, but why bother when you can just pay Google to ensure that this happens, on a pay-per-click basis? It works, and it's one of the few types of advertising that continues to work consistently. Every time I need a few new students, I simply increase my daily budget, and within days I have a full teaching diary again, whereupon I reduce my budget.
Joining the Registry of Guitar Tutors also yields results. I get three or four new students a year from the RGT, which doesn't sound like many, but the revenue compared with the membership subscription makes this one of the most cost-effective forms of advertising around.
Lessons from Pete's experiences
Let's go through some of the important points Pete brings up:
1. What worked in the past might not work today
Placing cards in shop windows or paying for newspaper advertising used to be very effective in bringing in students but aren't effective today. The reason why these methods aren't effective anymore is because potential students' behavior has changed. In the past when somebody wanted to find a guitar teacher, they would look at their local newspaper or Yellow Pages as the first option. Today, when a person wants to find a guitar teacher, they will search on Google.
Technology is constantly changing the way people look for guitar teachers so the way you need to advertise for students also needs to change.
2. An effective website makes all the difference
Pete brings up an incredibly important point: you must have a good, regularly updated website, and a strong presence on social media. Every day we see the same pattern: teachers with poorly created websites that aren't updated regularly achieve poor results and teachers with well optimized websites achieve good results.
The mistake we often see is for a teacher to set up a website and let it sit there untouched for years. It's not enough to have a website - you need to constantly update it and improve it. The reason our Website Referral Machine Workshop has been so popular is because it provides teachers with an overall strategy to make sure your website does achieve the results you want. Don't think of your website as an 'online brochure', it needs to be a living and breathing part of your business.
3. PPC advertising (eg: Google Adwords) can be effective - if you know what you're doing
As mentioned earlier, people now search online to find a guitar teacher. Advertising works best when it is seen by the right audience. That's why newspaper ads don't work anymore - the right people aren't looking at them. It's also the reason why Pete and other teachers are having great success with Google Adwords. PPC (pay per click) advertising can be incredibly effective if you know how to write an effective ad and you know how to track your results.
As Pete explains, all he needs to do to raise his student numbers is raise his budget on Google Adwords. That's what can happen when you learn how to run PPC ads properly.
It's important to point out that while PPC ads can be very effective, if you don't know exactly how to create and track an ad, you can burn through a lot of your money very quickly. So before you dive in to PPC ads, learn how to run them properly. LTG members can check out these resources to a good starting point: BMK-21 Writing Effective Advertisements and Marketing 101.
Thanks to Pete for his great insights! It's great to hear from teachers with extensive experience like Pete. You can get in touch with Pete on his Facebook page, his website or check out his YouTube channel here.
https://www.liveteachguitar.com/wp-content/uploads/2015/01/logo-300-100.png
0
0
Live&TeachGuitar
https://www.liveteachguitar.com/wp-content/uploads/2015/01/logo-300-100.png
Live&TeachGuitar
2015-04-20 08:58:23
2015-04-20 08:58:23
Guitar Teacher Interview: Pete Farrugia