Reading how other guitar teachers think about guitar lessons and how they approach them is a great way to get new ideas for your own lessons. In this interview you will see how Don Parkhurst Jr from Electric Crown Guitar Studio in Lebanon, USA gives his students a wide range of options in addition to the traditional face-to-face lessons. Don also shares some great advice for people wanting to learn guitar so check it out.
Tell us a bit about yourself and where your studio is located
Well I've been playing guitar for over 30 years and teaching for the last 10 years. I started out both working at a local music shop and beginning my own guitar teaching business. I've since left the music shop to focus more on my own business here in Lebanon, Connecticut called Electric Crown Guitar Studio.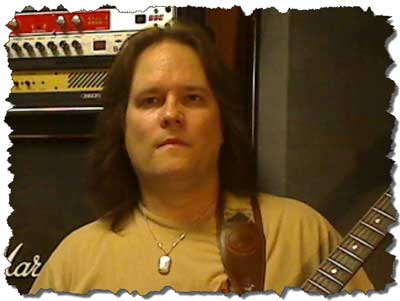 You offer your students a wide range of learning options, tell us about the different ways your students learn in your lessons
I think it's very important to offer my students many different options to both keep things interesting and giving students a full range of experiences to help prepare them for real world situations. Here are a few options I offer:
Full band backing tracks: We take both the real tracks and backing tracks minus the guitar parts of songs the student wants to learn to help teach them about correct timing and different challenges they will face when playing with real musicians. These tracks are presented in a variety of speeds to help each student progress at their own pace.
Recording Sessions: I also record each student along the way so both myself and the student can analyze the recordings together. This helps with determining what sections need additional attention and also gives them a real sense of how they are progressing. Once the student is ready we record them for real. I'll then mix them along with the backing track and in the end they have a demo of themselves playing along with a full band, many times including vocals!
In addition to working on songs during our regularly scheduled lesson I also provide additional recording sessions where students have the opportunity to get more time in to complete their project. This leaves a potential combined total of 2 hours of instruction/recording time per week.
Live Performance: This is a very new thing I'm offering as part of the guitar program. Students get the opportunity to go up on a real stage and perform their songs. This could be solo or with other musicians. While some students are not comfortable performing in front of people I encourage my students that are ready to take advantage of this opportunity. This helps in preparing them for joining or starting a real band of their own!
24 hr. video exchange lesson support: I encourage all of my students to contact me between lessons with any questions they have. There is a member's support area where students can upload a video of themselves demonstrating what they are having problems with. I can then view it and send a video response back. This is great because nobody is left waiting until their next lesson to get questions answered.
Video Exchange lessons: If students can't come to the studio to study with me we can also do video exchange lessons. It works in the same way as the support lessons I outlined above except these lessons are more involved covering a variety of subjects.
Skype lessons: I also offer Skype lessons for anybody that wants a more real-time type of lesson experience.
Coming soon: My students will have the opportunity to perform in a professional video production studio and their performances will be broadcast on public access television stations! How cool would that be to see yourself on TV?
What styles do you focus on and what songs are popular among your students?
While I can teach a variety of styles the main styles I teach are Metal, Classic Rock and Modern Rock. I get a lot of request for songs by Metallica, Megadeth, Judas Priest, Ozzy etc… and on the Classic rock side I get a lot of request for Pink Floyd, Lynard Skynard, Aerosmith, Cream etc… Again though I work on whatever songs my students are interested in providing it's at an appropriate skill level.
What are some of the things accomplished by your students?
Many of my students go on to form bands of their own playing cover material, their own original material or a combination of both.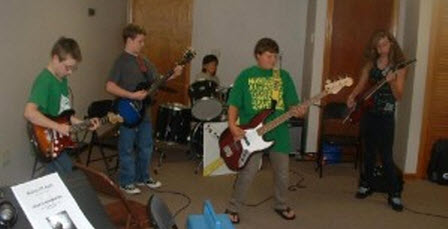 Walk through a typical guitar lesson and how all the extra services you offer make a difference to a student's development
A typical lesson would most often start with going over any area's the student struggled with while working on the previous weeks material. If there were no problems at all then we would move onto running through a couple skills (Lead techniques, theory, rhythms etc…) For the remainder of the lesson we will work on cover tunes, improvising, original compositions etc… Focusing on only one of these area's per lesson of course!
As I already mentioned earlier we will play along with backing tracks and record the student's performances. We'll then sit together and analyze how the performance went to determine what they need to work on more in the upcoming week.
This approach works great because let's face it - it's a lot more fun playing songs along with real band backing tracks then along with a metronome. The nice thing is that even at slow speeds students can practice with full backing tracks. I have software that slows everything down without making it sound like a mess. Also many times these backing tracks will be the actual band with drums, bass, vocals etc… minus the guitar. How cool is it to be able to play on a track with James, Lars and Cliff from Metallica? Nothing against Kirk but you're now the guitar player!
Students bring these backing tracks home with them to practice along with by the way. There are usually a total of 3-5 tracks at different tempos. Sometimes even certain sections looped over and over.
As time goes by we eventually start recording their performances and work on getting them ready to perform their songs live for an audience!
How do you use technology to give your students more than the traditional face-to-face lesson?
When I was younger and studying with my guitar teachers it was basically "Here is what you will be working on during week and I'll see you next week." The next week the teacher would depend totally on me to tell him what we were working on. This meant that they hadn't put much thought in beforehand, actually none, as to what we went over in the previous week. They took a wing it approach. Now while I had some excellent teachers I felt that they all could have improved in this area. When I began teaching I decided not to teach in this way.
I give each student a lesson plan sheet where I list different areas of study. Under each category I write down assignments and instructions for the upcoming week. I then record all this information on my computer which allows me to review exactly where we are at now, where we were three months ago etc… Each week I sit down and review this for every single student and decide what we are going to work on in the next upcoming lesson. Having said that if someone has a question about something and we veer off the plan then I'm open for that also because these can end up being the best lessons. We can always work on the planned stuff the following week. Generally though I know exactly how the lesson will go before they step a foot into the studio.
I also create all kinds of sheets to keep track of practice, metronome readings etc… Keeping records of all these things will produce more consistent and quicker progress.
Another thing that would often happen to me back when I was taking lessons was I would either forgot what they had said or I didn't fully understand what I was supposed to do. I didn't ask questions during the lesson so it was partially my fault also but the result would be that I would end up clueless and not working on any of it during the week. I'd have to go back and basically do a repeat of the lesson I already had. Technology has changed this!
I have a powerful online audio/video exchange system where every student has full access to me whenever they need it. If they got home and forgot what it was they were supposed to do or their not sure if they are playing something correctly all they have to do is record a video of themselves and post it in their personal support site. I can then send them back a video response showing them what they need to work on. It's great because when students get stuck they can contact me and continue moving forwards. Here at my studio, gone are the days of "How was I supposed to do that?" Help is there at the exact moment they need it!
I also have a facebook page where I regularly post additional tips to help students along with anybody else move forwards with their journey into the world of being a musician!
What advice do you have for somebody wanting to learn guitar or currently learning on their own?
My biggest advice is to find a good teacher and study with him or her. If they are any good at what they do they will bring you to where you want to be in a fraction of the time it would take by doing it on your own. I know because my first five years of learning to play guitar was all self-taught. I was very self-motivated also which is, as I've come to find, not the norm. I did have a couple failed attempts at lessons because once a teacher wanted to work on anything I didn't I would drop him like a bad habit. I got to a point where I knew certain fundamental well but I couldn't figure out how they related to these other concepts I have learned. It was like a puzzle where you have groups of pieces scattered about but without looking at the box you would have no idea of how they relate to each other. I finally got serious and took lessons for real!
I have to say that in that one year, actually maybe in 6 months, I learned more than I did in the first five years combined. I was a little more advanced in certain areas while at a complete beginner's level in others. My technique was wrong in many places and I was generally an inconsistent mess. It was hard on my ego at first to be working on basic beginner's material after playing for five years but I wouldn't have it any other way. I actually eventually developed a passion for understanding music theory for which I still enjoy discussing with other musicians today!
The point here is that when you have a good experienced teacher in front of you what you really have is someone that has already been where you are at, made all the time sucking mistakes, learned how to overcome them and even more importantly learned how to explain effectively how to avoid and overcome these mistakes and pitfalls. In short you'll a lot save time and frustration!
Now I hear many people say I can just teach myself through the internet. There are tons of youtube videos, sites and blogs on learning how to play guitar. Why would I pay for lessons? I have to say that I've seen some great tutorials on different areas of learning the guitar. The bad thing here is that there is no real plan set out for you. Just as the case was before I started lessons I developed big holes in my playing because I had no structured plan to follow.
Even more importantly you have nobody there to correct you from developing bad habits that take much longer to break then learning correctly in the first place. There is absolutely no replacement for having your own personal guide to help you navigate through this confusing world of becoming a competent musician.
Now having said that I need to mention that I think all of these online sites and youtube videos are a great additional resource. I wish I had all this when I grew up! If you don't understand a certain subject just to youtube and you'll find tons of videos on that subject. It's like having your own huge personal library at a click of the button. I have some videos on different subjects on my own site.
Now using the internet to study from doesn't necessarily mean you are limited to random bits of information. There has been an explosion of Skype and video exchange type lessons online recently. As you already read earlier I myself have begun teaching online using these formats. These lessons can be a very effective way to study because you still get the benefit of having a teacher watch and critique your performances.
So while I still think that live in person lessons are best, Skype and video exchange lessons provide an alternative when you can't find a good local teacher, you don't have time to travel to a teachers studio or in the case of video exchange lessons you simply can't coordinate a consistent weekly time to study with a live in-studio or skype teacher. One nice advantage you have with these online formats that you don't get with live in-person lessons is you can watch your video lessons over and over again.
So in conclusion you can get by to a degree with lesson sites and videos off of Youtube but as soon as you can afford it go find a local teacher or one on the web that can provide the personal attention you really need. I can't tell you how many people have come to me telling me how they tried to learn on their own off the internet and finally decided to look for a real teacher to study with. As good as online videos, even some books and online courses are the one thing you can't replace and never will be able to is having your own personal mentor guiding you to where it is you need to be!
Check out Electric Crown Guitar Studio at rock-lessons.com or their Facebook page.
http://www.liveteachguitar.com/wp-content/uploads/2014/04/Electric-Crown-Guitar-Studio-Students.jpg
229
448
Live&TeachGuitar
https://www.liveteachguitar.com/wp-content/uploads/2015/01/logo-300-100.png
Live&TeachGuitar
2014-04-30 08:29:37
2014-04-30 08:29:37
Guitar Teacher Interview: Don Parkhurst Jr