Can Students Find You Online?
Today an increasing number of people wanting to learn guitar look online for teachers. These people won't look at your ad in the newspaper or community notice board. They will simply spend five minutes searching online and contact whoever they find.
Unless you're easy to find online, you're going to miss out on students.
We've helped a lot of guitar teachers increase their presence online so more people can find them. These reports will give you a snapshot of your current online presence and give you advice on what you can do to improve your position.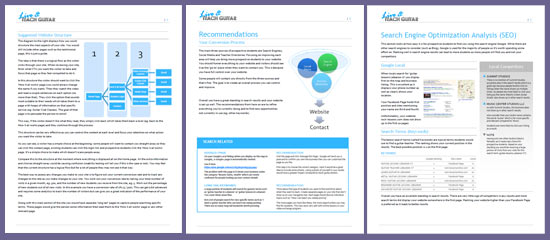 What You Get In The Reports
We can prepare three different reports for members to target different aspects of online marketing. Members can request up to one report a month so you can constantly review your online position and improve it. The three reports available are:
SEO Report
This report looks at how easily potential students can find you online using search engines. We will look at your website and your goals and figure out exactly what keywords you should be targeting. We then compare this to your performance on every relevant keyword and see how you compare to your competitors. In this report you can see exactly how well positioned you are and what room you have for growth. We will provide you with specific recommendations to raise your ranking for the most important keywords and suggest different ways you can use your website to target different students.
Our SEO Report will provide you with:
An overview of keywords that your website is currently ranking well for
Recommendations on what keywords you should be targeting to reach your goals
Advice on how to target specific keywords and rank higher
Find out more about our SEO Report for Guitar Teachers
Website Analysis Report
While it's easy to put a website together, having an effective website is a very different matter. People have high expectations for websites today and if your website doesn't meet these expectations visitors will leave without hesitation and check out your competitors' websites. Creating an effective website is far more than picking a good looking design and creating an 'About Me' page. This report will analyze your website in detail and let you know exactly what areas are working well and what areas aren't. We will provide you with specific advice on how to improve your website and how to fix any problems or issues.
Our Website Analysis Report will provide you with:
A thorough analysis of your website
Details on any problems or issues we discover
Advice on how to improve your website to better suit your goals
Assistance in implementing any advice
Find out more about our Website Analysis Report for Guitar Teachers
Social Media Report
Social Media is becoming an increasingly important aspect of finding and attracting new guitar students. While there are many different ways you can use social media to promote your guitar lessons, it can be tough to figure out which approaches will work for you. This report will take a look at how you are currently using social media and suggest ways you can improve your social media performance based on best practices. We've looked through hundreds of different guitar teachers' social media accounts to see what strategies work and what don't.
Our Social Media Report will provide you with:
An analysis of your current social media efforts
Advice on how to improve your social media performance
Examples of how to change your approach or avoid problems
How to attract more relevant followers and improve follower engagement
Find out more about our Social Media Report for Guitar Teachers
What Our Members Think
Here's what one of our members has to say about the reports and what they contain:
I was curious about the online marketing report and I figured I'd try it out. Nothing to lose since it doesn't cost any extra money. What I received back was a big surprise!
I was expecting a word document type report that went over a few area's with suggestions on how to improve upon them. What I got was a highly detailed report on several areas including a full analysis of my website which included suggestions of how I can improve my site. Things like improving the flow from my front page to the others which contain more detailed info on specific services I offer, detailed analysis of the overall structure of the site and how to funnel people from reading my pages to actually contacting me along with other great suggestions.
I also received extremely helpful SEO information to help with my ranking in search engines like Google, Bing, Yahoo etc…  I also don't understand this search engine optimization stuff that well but everything was presented in layman's terms which even I could understand. The few things I still didn't understand I also received additional extra help with.  
Now again I expected a word document type of report but what I got was a report full of nicely organized graphs, flow charts and additional charts which contained areas that were analyzed, scores for each area, comments and suggested actions.  Everything was organized perfectly in a way that helped with taking many different critical areas that needed to be covered into an easy to understand presentation of all this info. While the actual information within the report was excellent the presentation brought it all to a new level! I give this report an A+!!! I highly recommend everybody take advantage of this report!
Don Parkhurst Jr (Lebanon CT, USA)
As Don mentions above, we provide full support after you receive a report and can help you implement any recommendations. If you want to succeed as a guitar teacher, these reports will give you an advantage over your competitors.
Request A Report Now
We can usually complete your report within three business days after we receive your request. A lot of work goes in to provide you with useful information specific to your situation so it takes some time. Members can request up to one report a month so you can keep track of your improvements over time.
Request a Website Analysis Report
After you request a report we will be in touch via email to let you know how it's going and to provide you with ongoing support after you receive the report.