Why the right guitar lesson plans for kids are so important
Have you ever had a student who couldn't stay focused? Who never practiced at home, couldn't remember last week's materials and who's eyes kept wandering all over the room instead of on the page?
Then you know the feeling of frustration when you try so hard to teach kids. Even the best teachers can fall into this trap and the truth is it's not their fault. The problem isn't with the kids and the problem isn't with you, the problem is the teaching materials used. Using guitar lesson plans that haven't been designed for kids causes these issues. Teaching guitar out of a standard book won't do the job because they weren't designed by teachers for teachers.
If you use the right guitar lesson plans and teaching materials, you will notice that they:
Keep the kids motivated
Encourage them to practice
Easy to understand
Able to see their progress
In other words, if you use well designed lesson plans, they will make your job a lot easier.
What makes good quality guitar lesson plans for kids
To be effective, guitar lesson plans for kids need to be very different to guitar lesson plans for adults. Kids also have extra requirements compared to guitar lesson plans for beginners. The lesson plans need to have certain extra qualities. They must: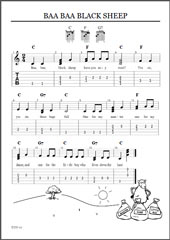 Allow your students to clearly see their progress
Be consistent from lesson to lesson
Clearly explain the content
Continuously introduce new challenges
Use incentives to motivate the child
All the above points are essential or else your student's won't get the full value from your teaching. In other words, if you use poor quality materials, you have to work extra hard to make up for it. The reason we have focused so much on the above points is because we use the materials as teachers. We have all experienced a kid's eyes darting around the room because he is bored of the materials. That's why we stopped teaching from books from guitar shops and started the long and challenging process of designing effective teaching materials.
Now when we teach children using the guitar lesson plans we design, the difference is obvious. Kids come into each lesson full of energy and it's obvious they have been practicing all week. That's how powerful the right materials can be.
The in-build incentives in our Kids Guitar Lesson Plans
Our new Kids series of guitar lesson plans uses in-built incentives to encourage the student to practice in-between lessons. You will be able to use these incentives to encourage the student to practice and to keep track of their progress. We've tested these incentives and the results were outstanding. Not only were the students more likely to practice compared to method books, but the students took ownership of the songs and continued to practice them ongoing.
We're constantly improving our guitar lesson plans for kids to make sure they work best for your students. You can access practice charts, goal trackers and other motivational teaching tools to encourage your student to enjoy the learning process.
Imagine your student coming in full of energy to learn something new after mastering last week's materials? When you ask them to have a go playing the last piece you taught them last week they play confidently. The excitement your student will have when they realize they have improved is what makes your job as a guitar teacher worthwhile.
Access high quality guitar lesson plans right now
Access our guitar lesson plans now to get the full benefit from carefully designed materials straight away. No need to worry about choosing the right book or spending your valuable time writing your own materials because you will have instant access to everything you will need. Register here to access the materials now.