If you're considering a career as a guitar teacher this interview is a must read. Vic Tims is a very passionate (and busy) teacher who runs more than one music school along with other projects as you'll soon find out. If you have ever wondered what is possible with a career in teaching, Vic Tims shows a great example.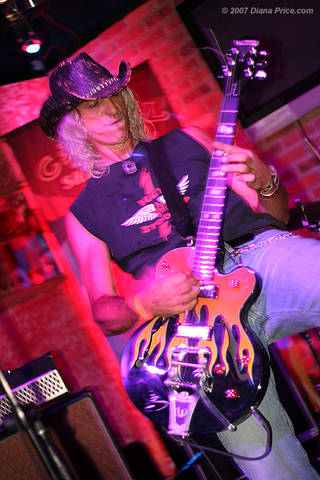 1. What's your background and experience as a guitar teacher?
I fell into teaching quite accidentally, I've played most of my life and have always had guitars sitting around the house. When my two sons got old enough to learn and showed an interest I taught them a few things and soon all their friends and their friends were wanting lessons so that was the start. That was back at the Glendale, AZ. studio and I must admit I used a lot of trial and error approach to teaching back then but eventually I honed my system down to a very efficient machine. Live Teach Guitar has been a tremendous help in this area with their teaching materials, they fit well into my program as I can TEACH THE STUDENT WHAT THEY WANT TO LEARN. The DESIRE TO LEARN is a powerful motivator, if a student WANTS to learn a particular song or technique then teach it to 'em!
2. What type of music do your students learn?
My students tend to lean towards rock and roll, from 50's and 60's stuff up through modern hard rock, but I try to teach all of my students the value of at least messin' around with several styles, get out of their comfort zone kinda thing, especially with lead guitar, timeless country and blues licks can come in mighty handy sometimes.
3. In your opinion, what is the key to becoming a great guitarist?
Ha! Guy jumps into a cab and asks "hey driver how do I get to Carnegie Hall?" Cabbie turns around and says "...practice man, practice". To become a great guitarist ya gotta play A LOT, every day, standing up, and keep trying new things, learning, jamming, refining your chops! But lets back up, we dont all have to be GREAT guitarists, in fact to do so would involve a lot of blood, sweat, and tears...plenty of fun to be had strummin' a few chords, pickin' a little lead, and the commitment is much less intense! A well-rounded student who enjoys learning to play guitar is my goal.
4. What sets you apart from other guitar teachers?
Simple...results. I get my students playing SONGS right off the bat. this is the reason they wanted to learn guitar, TO PLAY SONGS! When a student hears themselves playing something that even vaguely sounds like what they're trying to play they're hooked! They come back and they keep coming back and every new song they learn teaches them something new.
5. What's a 'best practice' you can share with other guitar teachers?
Listen. Listen to your student and make a genuine effort to teach them what they want to learn. A complete and thorough understanding of the guitar and music theory isn't necessary to have fun playing guitar! Follow their lead and utilize their desire to learn to motivate them! We all know that the real learning takes place at home when the student practices, so make every effort to increase the possibility that they will do so!
6. What was a big challenge for you in a past while teaching and how did you overcome it?
Lessee, there have been a few...teaching young students presented a challenge at one time as they sometimes aren't yet into or that concerned with pop culture, they literally HAVE NO pop or rock influences, no favorite artists to motivate them. I've found the best way to overcome this obstacle is by introducing the young student to some easy, strummy, but still cool pop/rock tunes and show them that if they just learn these three or four chords they can play them! So we pick one and focus on those chords, and as I said earlier, when they, and their parents, start to hear something they recognize, its off to the races! More songs, more chords, new techniques!
7. How do you find teaching online via Skype compared to in person?
Its great! Its a little clumsy at first but you quickly get used to not talking at the same time and the occasional little delays...I do encourage a slightly longer lesson to help accommodate these things...its important to remember that with Skype you can not only reach far, far away, but also, and maybe more importantly, you can reach just across town...maybe someone sees your local ad but lives to just a little to far away, or has transportation limitations, and can't drive to your studio...bingo, Skype is your answer! Even with Vic Tims' Guitar School studios in Downtown Phoenix, AZ and Avondale, AZ., I have students in Tempe, AZ., Gilbert, AZ., and other relatively nearby cities who prefer Skype over driving.
8. What advice would you give to somebody wanting to start teaching guitar?
Well, I wish I'd had you guys around when I started, thats for sure! With resources like the ones available at Live Teach Guitar getting started is easier than ever! I'm not just strokin' you guys, the materials you've accumulated are practically a roadmap! Lesson plans, Business plans...coupled with patience and a kind, fun demeanor its everything you need!
9. How has Live and Teach Guitar helped you with your teaching?
Live Teach Guitar gives you ability to react to a students wishes, if the student wants to learn finger-picking there's a lesson for that..palm-muting, barre chords, whatever they want to learn, there's a well-organized and presented lesson for it, with handouts for the student and instructions for the teacher. This looks very professional, and early on in your relationship your student, or their parents, have nothing other than your materials to judge you by, so they better be good! And the forum is great, talking with other teachers can be very productive, and the personal website is awesome, again, it helps you look more professional!
10. Apart from teaching, do you have any other interests or projects on the go?
Man I've been so busy! I've got my band 'Vic Tims and the Kentucky Rifles', I've got a gig with an Aerosmith tribute band (Aerotrain Aerosmith Tribute Band on Facebook) so I've had to learn 26 Aerosmith tunes ON BASS, AND I'm opening a second studio downtown, AND my radio show (Vic Tims Radio Show Mondays 7-10MST at www.NoLabelAZRadio.com) is taking off like crazy just not enough hours in the day man!
Thanks to Vic Tims for this great interview - it's always good for other teachers to hear about another's teaching philosophy. Please support the Vic Tims Radio Show (and unsigned Arizona bands) by sharing their Facebook Page. If you would like or know somebody who would like guitar lessons with Vic Tims, you can contact him at vtgs.liveteachguitar.com
If you teach guitar and would like to be interviewed to share your experience with other guitar teachers, please contact us here.
https://www.liveteachguitar.com/wp-content/uploads/2013/03/Vic-DP1.jpeg
480
320
Live&TeachGuitar
https://www.liveteachguitar.com/wp-content/uploads/2015/01/logo-300-100.png
Live&TeachGuitar
2013-03-30 20:35:31
2013-04-01 20:04:41
Guitar Teacher Interview: Vic Tims