If you want to start teaching guitar, it's important to learn what is required before you start. Don't fall into the traps so many other new teachers fall into when starting out. When you finish reading all the materials and information below, you will know exactly what needs to be done to start teaching guitar.
Step 1: Learn effective guitar teaching methods and techniques
The most common trap new guitar teachers fall for is not learning effective teaching methods and techniques. Too many teachers use their first students as 'lab rats' as they fumble their way through lessons. This can hurt your reputation as a teacher as well as frustrate your first students.
To make sure you don't fall for this problem, we've prepared detailed guides and courses to teach you the most effective teaching methods and strategies expert guitar teachers use. Reading through the guides and courses is enough to put you ahead of most experienced guitar teachers because you will have proven methods from the very start.
Here's a few guides and courses to give you effective teaching abilities straight away:
Training Course: The Demonstration Performance Method

This training course will give you a blueprint on the most effective guitar teaching method used today. You will learn exactly why the method works and see it in action in Case Studies. After completing the course you will be able to apply the five step method to all your students straight away

Training Course: Questioning Fundamentals

Studies have clearly shown that teachers that understand how to properly use questions in lessons are more effective and their students progress faster. This training course will teach you exactly how to use various forms of questioning techniques to help your students develop. Essential for all guitar teachers.

Teaching Guide: Mnemonic Devices

This guide will show you how you can use mnemonic devices in your lessons to help your student memorize topics easier and faster. If you plan on teaching children, this is an essential guide to read.
The three resources above will give you the absolute minimum needed to start teaching guitar. We have more Training Courses and Teaching Guides available if you want to increase your teaching skills and abilities.
Step 2: Use good quality teaching materials
Your students want to know that you can help them achieve their goals. A common mistake new guitar teachers make is to teach out of a standard guitar method book. The reason this is a mistake is because the book won't necessarily help the student achieve their specific goals. What do you do if the student doesn't want to learn scales and half the book teaches scales? What if the student doesn't like the songs in the book?
The easiest way to prevent these issues is to use guitar lesson plans instead. The picture below is an example of two simple guitar lesson plans: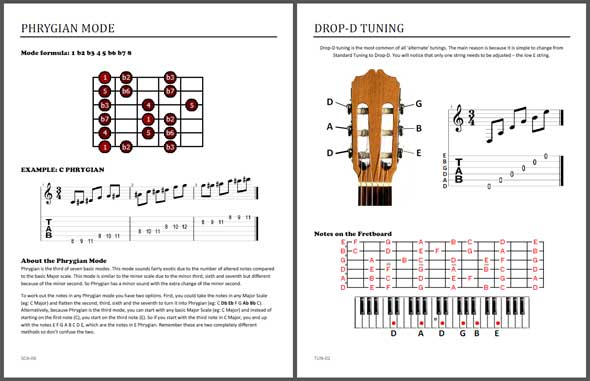 As you can see, they're very simple and specific to a certain topic. This means you can choose specific guitar lesson plans suitable for each individual student. Every student has different needs so you can create a custom curriculum for each individual student. Each of our guitar lesson plans contains a 'Teacher's Guide' which gives you a blueprint for each lesson and how to explain the material. For a new teacher this can be a life saver as you can confidently teach all topics.
Check out our wide range of Guitar Lesson Plans and Worksheets here to see the type of high quality resources you can access for your first lessons.
Step 3: Spread the word about your guitar lessons properly
Quite often new teachers will place an advertisement in a local paper and wait for the phone to start ringing. Unfortunately newspaper advertising is the most expensive and ineffective way to find new students. We've helped many new guitar teachers promote their lesson service without spending any money on advertising. Our members can ask us for advice and we're more than happy to help promote your lessons as well as set up a plan to bring in new students.
To get started teaching guitar, you need to attract new guitar students. For new teachers this can be a challenge as students will hesitate if they know you're just starting out. That's why we created Business Guides for our members to help you get the business side of teaching guitar right from the start.
Here's a few Business Guides to help you start teaching guitar straight away:
In addition to these guides, check out the
Business Guides Section
to see our range of marketing guides to help you find new students.
Step 4: How to give a first guitar lesson
Once you set the foundation for your teaching skills, gain access to high quality teaching materials and start spreading the word about your lessons, you will need to give your first lessons. The first lesson is the most crucial lesson as the student will use it to decide whether to continue with you or not. Unless you provide an excellent first lesson, the student probably won't come back. Check out our guide for detailed information on how to give a first guitar lesson so the student wants to come back for more. Check out some tips for teaching guitar as well before you start teaching guitar lessons.
Want more help?
Live and Teach Guitar Members can receive free coaching from expert guitar teachers who have assisted many people in similar situations as you.
We can help you:
Handle a tough student professionally
Set up your own website
Set a plan to teach guitar full time
Market and promote your teaching service
Achieve any other goals you have
Become a member today to receive all the support, advice and resources you will ever need to become a successful guitar teacher.